Waddler Program
For ages 6 to 24 months.
(Foothill Ranch location only)
5 FULL DAY PROGRAM ONLY: 7:00 AM - 6:00 PM
Throughout the day, the children are constantly stimulated through song, art, music & movement, tummy time, etc. They are learning that objects have different textures, colors, shapes and sizes. This age group loves to learn through using their five senses, as well as through their large and fine motor experiences. The Waddler Program provides a safe, nurturing environment in which our little ones can grow, and feel safe and at home.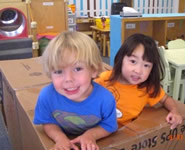 Beginning Preschool
For ages 24 to 36 months.
(Potty trained not required)
HALF DAY PROGRAM: 9:00 AM - 12:00 PM
EXTENDED-STAY PROGRAM: 9:00 AM - 3:00 PM
FULL DAY PROGRAM: 7:00 AM - 6:00 PM
This is the first experience for many toddlers in a preschool setting. There are two teachers in the classroom that provide a nurturing environment with many activities to help children make a smooth transition from home to school.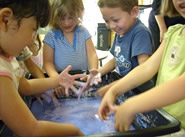 Preschool Program
HALF DAY PROGRAM: 9AM - 12PM
EXTENDED-STAY PROGRAM: 9AM - 3PM
FULL DAY PROGRAM: 7AM - 6PM
The children will be involved in the following activities:
Literature
Creative Art
Language Experiences
Music and Movement
Manipulatives (Pre-reading and Pre-math)
Science
Cooking
Perceptual Motor
Free Play
Rest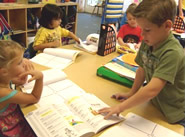 Kindergarten Program
(Foothill Ranch location only)
Hours: 8:30 AM - 3:00 PM
FULL DAY PROGRAM: 7:00 AM - 6:00 PM
Developmentally appropriate curriculum includes:
Balanced literacy approach to Reading and Writing
Math Their Way
Social Studies
Science
Creative Art
Cooking
Music and Movement
Physical Education
Field Trips